Our Story
He's Got Other Fish to Fry: Traveling Caterer Swamp John's Plans Restaurant in Muscle Shoals
Originally published by the Times Daily on February 20, 2005. By Emilio Sahurie.
The catfish, chicken, french fries and hushpuppies sizzle in the baskets. The heat from the frying vats heats the kitchen as John Shewbart occasionally peeks his head out the door for a little cool air.
He also eyes a man pacing outside his kitchen waiting for the first batch of Swamp John's catfish to turn golden brown.
"Maybe I have to do more cooking than talking," Shewbart said between shaking the baskets of food cooking in oil and flipping white filets back and forth in a bed of flour.
After a few minutes, Shewbart finally had several trays of food to hand to the man from his rolling kitchen, a converted grocery truck with a refrigerator, sink and fryers.
One hundred and fifty people and one hour later, Shewbart stopped cooking momentarily to call for reinforcements. It was Tuesday afternoon, and hungry people were still arriving at St. Luke United Methodist Church in Sheffield for $7 platters.
He took his plastic gloves off and dialed a cellular telephone to instruct his father, Jack, to bring another 45 pounds of catfish from Red Bay.
It's a problem that Shewbart has encountered frequently in the past four years as his business has steadily grown.
During a recent weekend fund-raiser at Rogers School for Greenhill firefighters, volunteers were running to nearby stores for supplies, said Greenhill firefighter Stan Wallace.
At one of the largest fish frys in the Shoals, Greenhill firefighters typically sell about 800 plates every time Swamp John's Catering rolls into Lauderdale County.
"We used to have the fish frys in our community center," said Wallace, who explained that catfish is paying for a new fire truck. "We ran out of space and moved it to the school."
Keeping a good stock of catfish, iced tea and Styrofoam containers may be issues in Muscle Shoals when the Swamp John's owner opens a new restaurant on Woodward Avenue in April.
The Swamp John's restaurant will be near Shelby's Shoe Warehouse. Shewbart said it would seat about 40 people and have a drive-through.
A group of three investors is backing the man with his second venture outside his hometown.
Shewbart runs a mobile catering business that serves catfish and the trimmings across northwest Alabama. He also sells catfish at a small convenience store in Red Bay that lures people from log truck drivers passing through the area to wealthy recreational vehicle owners stopping at Tiffin Motor Homes in Red Bay.
The food is so good that state Rep. Johnny Mack Morrow, D-Red Bay, said he decided to put his money where his mouth is.
Morrow is one of the investors who has seen the business flourish. For a second straight year, Shewbart is booked with catering business and fund-raisers that keep him working six days a week.
"I had told John to let me know when he was ready to take the business to the next level," Morrow said.
The business model for the new restaurant may be a familiar one to patrons of restaurants like Halevyille-based Guthrie's that specializes in one thing and do it well. But rather than chicken strips, Shewbart's customers will be ordering fried catfish.
Morrow said Shewbart is the key in the business because of his love of cooking.
That's all Shewbart has done the past four years — other than other restaurant chores like washing dishes and driving his two catering trucks.
Shewbart recently incorporated his business and filed papers to protect the Swamp John's name as a trademark.
After 19 years of working in the timber industry, Shewbart, a former football player at Red Bay High School, said he was looking for his own business.
He leased property near Alabama 247 to run a gas station and do a little cooking. At times, he also thought of opening a small garage.
But something happened every time he had a fish day at the small convenience store — people lined up outside the restaurant, driving from as far away as Florence for catfish.
Jamie Seahorn, who starts her day around 6:30 a.m. making hushpuppy mix, said she was hired for part-time work about six years ago. Swamp John's employs four full-time workers as well as some of Shewbart's relatives who work on a part-time basis.
"We just became busier and busier," Seahorn said. "Suddenly, I had more hours than I wanted."
Seahorn often works alongside Shewbart cooking at catering functions.
Observing Shewbart cooking, some of the secrets of his success are obvious – tasty Southern Mississippi catfish; hot and fresh food cooked on the spot; and peanut oil rather than lard in the fryers.
Fish cook 10-15 minutes with no timers, just Shewbart's eye for a done fish.
But what may be one of the few secrets the 45-year-old man won't reveal is what's in his flour mixture.
"We can't say what it is," Shewbart said. "We just serve good quality food at a fair price."
Shewbart attributes recipes for his catfish and side items to his mother, Marvelene. She spent years working in school and hospital cafeterias cooking for others.
"She's a great cook," he said.
And that's what Shewbart now hears from his customers like Ollie Sanders, the lay leader at St. Luke United Methodist Church in Sheffield.
Sanders said churches and other organizations like the fact they don't have to worry about cooking or cleaning up. Their biggest worry may be getting an opening in Shewbart's calendar.
"People in Alabama love fish," Sanders said. "His food is consistent and is plenty to leave you full."
Fund-raising is also made easier because the name sells itself, Sanders said. Just putting up a few Swamp John's signs means bringing traffic off the street and the congregation doesn't have to pre-sell a lot of tickets.
Jean Thompson, who was driving on West Avalon Avenue last week, said the Swamp John's name on the church marquee made her stop her car.
"I saw the sign driving by," said Thompson, who ordered one platter. "I don't have to cook tonight."
For St. Luke member Charles Hampton, the catfish is one of the best in the area. Hampton was carrying five catfish platters and drinks to his car.
"A lot of people don't know how to fix a good plate," Hampton said. "Most fish comes out greasy."
Besides churches, schools and volunteer fire departments, Shewbart has catered for several corporate clients as far away as Birmingham and Scottsboro.
He has also catered one wedding rehearsal dinner at a country club in the Shoals.
One of his assistants had taken the booking, which made Shewbart do a double take when he noticed the business wasn't a school or a fire department.
"I called this woman to tell her, 'Do you realize we serve on Styrofoam?' " Shewbart said as he recalled the wedding affair. "She said she knew, but it was good food."
Shewbart said much of his success has been from word-of-mouth advertising. Some customers outside Alabama, like his motor home owners, also do a little advertising by buying Swamp John's T-shirts that they tote cross-country.
But the Red Bay native considers himself a small fish when it comes to the city's other famous names like Tiffin Motor Homes and Sunshine Mills.
"We are on the road," Shewbart said. "Maybe people will think we are famous one day."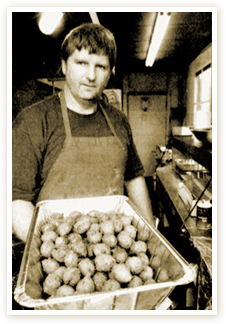 John Shewbart has hushpuppies ready to serve at a Swamp John's catered event at St. Luke United Methodist Church in Sheffield last week. Shewbart plans to open a restaurant on Woodward Avenue in Muscle Shoals in April. JIM HANNON/TimesDaily.